How to Use Tinder Do not know how to use Tinder yet, Learn Step by Step Process
Tinder is one of the most popular dating apps. Tinder shows the profile of the user's location. Through this app, users can swipe to the right and left side to reject or select any profile. If both men swipe on one another's profile to the left, then it will give a message of It's a crush. This will allow both users to chat with each other. If you are new to this app and you do not have to run this app then we are going to tell you how to operate this app.
1. First of all download this app by visiting the Google Play Store or Apple App Store.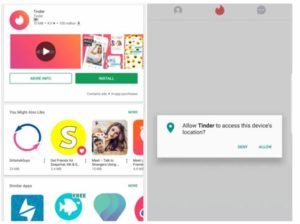 2. Open the app and login with your mobile number or Facebook account. If you login with a Facebook account, then setting up the account will be easy. Because your information from Facebook gets synced in the app.
3. Then go to the profile icon and click the gear icon. This will take you to the app's settings.
4. Here you will find some options. The first will be Discovery Settings. Under this, users will have to give details of their location, interest, distance and age. Users can choose their gender in the Show me section.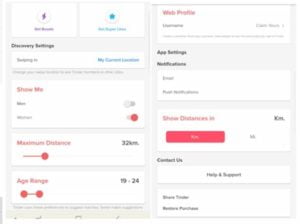 5. After this, users will get notification and contact us section in App Settings. Users can change push notifications in notification settings. At the same time, in the Contact Us section, support is available for any related to the app.
6. Now the next option is editing your profile. To edit your profile, go to the profile option and tap Edit info. Here you can fill the information about jobs, company, school etc. Users can also change photos as well.
7. There will also be a flame-shaped section. Here you will find the profile of the users. Users can rejoin and superlikes any profile. The 'X' button for the Reject, the Heart Shape button for the Like and the '*' buttons for the Super Like.
8. After this, sending message is also an option. After match with any other user you will have to click the message icon. This icon is placed at the top. Here will be the name of all the users whose profile matches you. Here you can chat with anyone.
9. Tinder allows Swipe or Like 100 on the right side every 12 hours. There are also many features that are restricted to free users. If you have to take advantage of all the features of this app then you will have to subscribe to Tinder Plus and Tinder Gold. This gives users the option of unlimited Wright Swipe, a Boost every month and 5 Super Likes per day.
How to Use Tinder Do not know how to use Tinder yet, Learn Step by Step Process